The next conference, NASS XI, tentatively titled "Anticipation and Change – the Semiotics of Development" is scheduled to take place in Stavanger, Norway, June 13-15, 2019. More preliminary information available here.
The 10th conference of the Nordic Association for Semiotic Studies was held in conjunction with the 13th World Congress of Semiotics in Kaunas, Lithuania, June 26-30th 2017. See Call for papers.
***
The Nordic Association for Semiotic Studies (NASS) was founded in 1987 during a meeting in Imatra, Finland, and has as of today arranged ten international conferences. The Eighth Conference of the Nordic Association for Semiotic Studies, with the theme "Sign Evolution on Multiple Time Scales", was convened by Kristian Tylén and took place at the Center for Semiotics, University of Aarhus, in Denmark, May 29th – 31st, 2013. NASS IX took place in Tartu, Estonia August 17-20th 2015. The conference was convened by Tiit Remm and had the theme "Semiotic (un-)predictability". The call for papers is archived here.
After a period of hibernation we refounded NASS as an organization. The board of 2011-2013 approved a new constitution, which was consequently treated at the General Meeting of NASS in Aarhus in May 2013. We have also launched a regular newsletter – seven issues have appeared so far (the latest being the Spring 2017 issue). On June 9th 2012 a 25 year anniversary symposium was arranged in Imatra, Finland, as part of the 27 International Summer School for Semiotic and Structural Studies. The theme of the symposium was Nordic Semiotic Paradigms – NASS 25 years: Where do Cognitive, Bio- and Existential Semiotics Meet?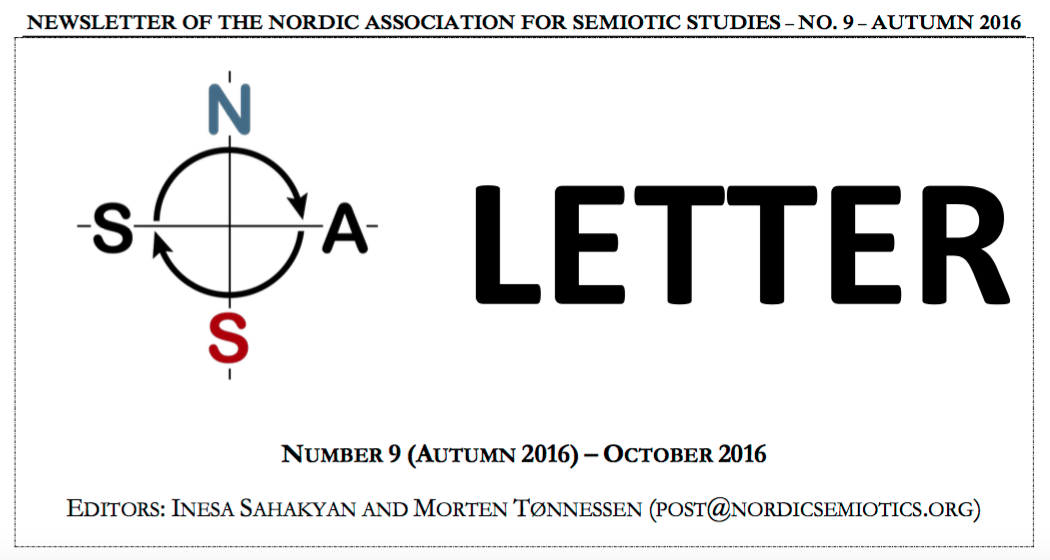 Webmaster: Morten Tønnessen (post@nordicsemiotics.org).
Conference pictures (Lund 2011) by Michael Ranta.