This is the official webpage of the Nordic Association for Semiotic Studies (NASS). NASS home area is constituted by Denmark, Estonia, Finland, Iceland, Latvia, Lithuania, Norway, Sweden.
The purpose of the Association is to promote the advancement of semiotics as an academic discipline and research domain in the Nordic countries and within the international semiotic community, fostering academic cooperation and highlighting Nordic contributions to the field. For this aim, to endorse contact and cooperation between its members, to provide information on Nordic and international academic activities within the field of semiotics, and to facilitate the development of research collaboration and projects across institutional and national borders. We organize a regular, biennial conference circulating in the Nordic region.
NASS also publishes a Newsletter with upcoming semiotics related events, new books and journals from both the Nordic countries and beyond.
To get in contact with NASS, please write to post@nordicsemiotics.org
We have a Facebook page and a Twitter account.
Our latest conference, the 11th conference of the Nordic Association for Semiotic Studies, titled "Anticipation and Change " took place in Stavanger, Norway, June 13-15, 2019.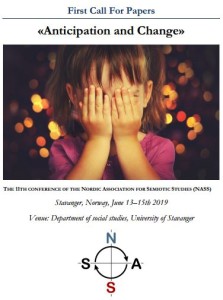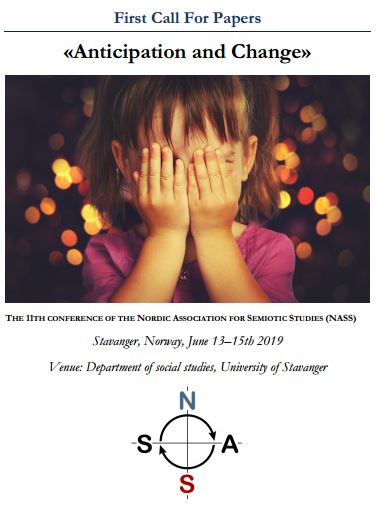 It was hosted by University of Stavanger (UiS) and co-sponsored by Department of social studies (UiS) and «The Greenhouse: An environmental humanities initiative at University of Stavanger». The overall theme was «Anticipation and Change». Relevant topics included the semiotics of child development and human development in general, social change, cultural change, environmental change, ontogeny, and evolution. The anticipatory aspect implies that future studies and the power of imagination are also relevant topics, as are, potentially, learning and perception, expectation and prediction, foresight and preconception.
Keynote speakers included Ingvil Hellstrand (Network for gender research, University of Stavanger): «Brave new world? Dystopia and social change in contemporary science fiction», Jon Kvist (Institute of Society and Globalization, Roskilde School of Governance, Roskilde University): «Recent welfare reforms: Development or dismantlement of the Nordic welfare model?», Jaan Valsiner (Department of Communication and Psychology, Aalborg University): «The little big sign-makers: What can be learned from children for general theory of sign mediation?», Nora Bateson (filmmaker, writer and educator, President of the International Bateson Institute): «Unnamed senses, unscripted ethics, wide angle attention», and Eero Tarasti (Professor emeritus, University of Helsinki) «Being and transcendence – introduction to existential semiotics»
More information on "Anticipation and Change" is available here.
VARIOUS CALLS FOR PAPERS PUBLISHED ON REQUEST
Webmaster: Lauri Linask (post@nordicsemiotics.org)