The 11th conference of the Nordic Association for Semiotic Studies, titled "Anticipation and Change " took place in Stavanger, Norway, June 13-15, 2019.
It was hosted by University of Stavanger (UiS) and co-sponsored by Department of social studies (UiS) and «The Greenhouse: An environmental humanities initiative at University of Stavanger»
The overall theme of NASS XI was «Anticipation and Change». Relevant topics included – the semiotics of child development and human development in general, social change, cultural change, environmental change, ontogeny, and evolution. The anticipatory aspect implies that future studies and the power of imagination are also relevant topics, as are, potentially, learning and perception, expectation and prediction, foresight and preconception.
Keynote speakers:
Ingvil Hellstrand (Network for gender research, University of Stavanger): «Brave new world? Dystopia and social change in contemporary science fiction»
Jon Kvist (Institute of Society and Globalization, Roskilde School of Governance, Roskilde University): «Recent welfare reforms: Development or dismantlement of the Nordic welfare model?»
Jaan Valsiner (Department of Communication and Psychology, Aalborg University): «The little big sign-makers: What can be learned from children for general theory of sign mediation?»
Nora Bateson (filmmaker, writer and educator, President of the International Bateson Institute): «Unnamed senses, unscripted ethics, wide angle attention.»
Eero Tarasti (Professor emeritus, University of Helsinki) «Being and transcendence – introduction to existential semiotics»
More information on "Anticipation and Change" available here.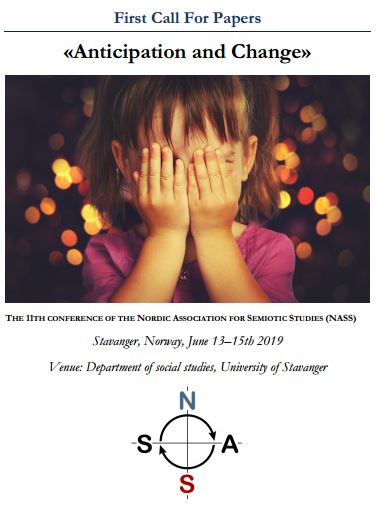 The Nordic Association for Semiotic Studies (NASS) was founded in 1987 during a meeting in Imatra, Finland, and has as of today arranged eleven international conferences. The Eighth Conference of the Nordic Association for Semiotic Studies, with the theme "Sign Evolution on Multiple Time Scales", was convened by Kristian Tylén and took place at the Center for Semiotics, University of Aarhus, in Denmark, May 29th – 31st, 2013. NASS IX took place in Tartu, Estonia August 17-20th 2015. The conference was convened by Tiit Remm and had the theme "Semiotic (un-)predictability". The call for papers is archived here. The 10th conference of the Nordic Association for Semiotic Studies was held in conjunction with the 13th World Congress of Semiotics in Kaunas, Lithuania, June 26-30th 2017. See Call for papers.
After a period of hibernation we refounded NASS as an organization. On June 9th 2012 a 25 year anniversary symposium was arranged in Imatra, Finland, as part of the 27 International Summer School for Semiotic and Structural Studies. The theme of the symposium was Nordic Semiotic Paradigms – NASS 25 years: Where do Cognitive, Bio- and Existential Semiotics Meet? The board of 2011-2013 approved a new constitution, which was consequently treated at the General Meeting of NASS in Aarhus in May 2013. We have also launched a regular newsletter – thirteen issues have appeared so far (the latest being the autumn 2018 issue).
Webmaster: Morten Tønnessen and Lauri Linask (post@nordicsemiotics.org).
Conference pictures (Lund 2011) by Michael Ranta.