Preliminary information on NASS XI (2019)
By Lauri Linask and Morten Tønnessen
The 11th conference of the Nordic Association for Semiotic Studies (NASS XI) will be held at the University of Stavanger in Norway in June 2019, prospectively with the theme "Anticipation and Change – the Semiotics of Development". This was decided by the newly elected board of NASS at its first board meeting.
At the first board meeting of the Nordic Association for Semiotic Studies following its General Assembly in Kaunas during the World Congress, held on November 10th 2017, it was decided that the eleventh conference of the association will be held in Stavanger, in the Southwestern part of Norway. This had been proposed by Morten Tønnessen, the new President of NASS, who will convene the conference with the University of Stavanger´s Department of Social Studies serving as host. Daria Segal will serve as conference secretary.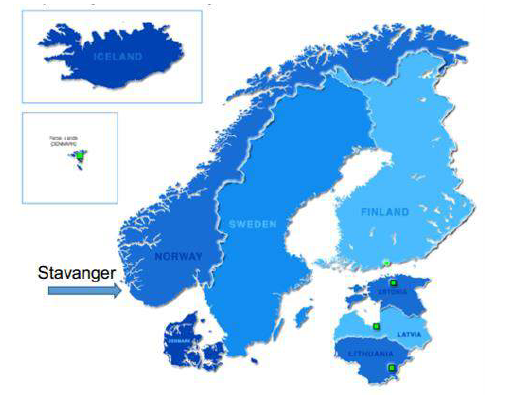 Stavanger is a scenic town of some 130,000 people, and not far from central points of international travel. The University of Stavanger, which recently celebrated 10 years as a university, is currently organized in seven faculties plus the Museum of Archaeology. It maintains strong connections and collaboration with public and private enterprises in the region. The innovative and international profile of the university creates a dynamic hub for learning, research and entrepreneurial activities. The university has 1.400 faculty and administrative staff and about 10.700 students. Only some initial thoughts and directions were set during the NASS board meeting.
Preliminary conference dates are June 13th to 15th 2019. NASS XI will obviously cover current developments in the semiotics of the Nordic and Baltic regions, but will seek to have a broader appeal internationally as well.
The draft theme for the conference is "Anticipation and Change the Semiotics of Development", and will cover research topics such as e.g.:
– Child development
– Social change
– Ontogeny
– Perception
– Learning
– Environmental Change
– Cultural Change
– The power of imagination
– Visions of Possible Futures
Both the title and the specific topics will be reviewed during the next meeting of the NASS board. Readers of this post are welcome to share their thoughts and ideas concerning relevant topics associated with the main theme via email (post@nordicsemiotics.org).
A Call For Papers will appear in the summer of 2018, and will also appear on the NASS webpage http://nordicsemiotics.org.